As we all make the journey home for the holidays, many of us will venture into colder climes – December will be winding to a close by the time we arrive at our destinations, and January's bone-chilling winds and 4PM sunsets will quickly set in. This can often put a cramp in your personal style – snow pants, thermal underwear and knitted mittens aren't exactly dominating the runways. However, there is a way to conquer your wardrobe's Seasonal Affective Disorder – especially this season, when bulky parkas and knee-high boots can be spotted on supermodels and magazine editors alike. So let's dive in: here's where to buy Winter 19's most essential, cold-weather-necessitated pieces and how to style them! Happy early Christmas!
Coats:
Here we can find a welcome update to one of winter's most tried-and-true pieces: the puffer coat. This stylish garment will wrap you up from head to toe, while also looking polished and trendy. It comes in this great camel colour, but if this particular hue isn't for you, it also can be ordered in a similarly versatile army green. Style this, as seen, with pointed-toe boots and a turtleneck for a more upscale ensemble, or, if you're looking for something a bit more laid-back, pair with some relaxed-fit jeans, your favourite pair of white sneakers, and a cosy cashmere sweater. 
Who said winter was all about utility? For a more glamorous look, select this piece from designer Annie Bing. It's less cumbersome than your usual winter-coat-fare but still provides great warmth with its detachable faux fur collar (cruelty-free, just how I like it!) It's sleek and will give you a great silhouette without sacrificing practicality and comfort. I would style this with, for some contrast, frayed jeans and combat boots, but if you favour a more classic look, then style this with a knit skirt, a good pair of tights, and some high-heeled boots (some Anna Wintour-style sunglasses wouldn't be out of place here either, for either ensemble).
To hew a little more classic this January, try this traditional plaid pea coat from one of my favourite online shopping destinations, J.ING. This piece is boyishly stylish, an androgynous alternative to the cutesy, brightly-coloured iterations of this style from the early 2010s. Oversize is in, so if you're looking to strike the right balance between classic 20th-century style and interesting 21st-century structure, then this is the garment for you. To style this, you could commit to the full Alexa Chung-meets-Diane Keaton fantasy and wear with boyfriend jeans, Chelsea boots, and a chunky knit. Or you could switch it up with more feminine pieces – a mini skirt, some stockings, ankle boots and perhaps even a jaunty beret! 
Houndstooth? For winter? Groundbreaking, you might be thinking (pardon the rather overplayed Devil Wears Prada reference). Yes, this print can become a bit trite and leave you looking like a Season 1 Blair Waldorf knockoff, but here, a refreshed silhouette saves the day. I love the puffed sleeves and oversized-yet-still-structured look of this coat. And besides, there's a reason this is a staple material for winter collections – it looks great and always lends the wearer a bit of extra polish. Pair this with a colourful, frilly blouse and platform boots (like those ones that all of your favourite celebrities own from The Row) for a sort of David Bowie-esque moment, or with some classic black leather pointy-toe boots and turtleneck for something a little more mod. 
Winter would not be complete without a super extra shaggy fur coat, and this is the absolute ultimate. Its wide collar lends a bit of old-school glamour, while its larger silhouette and longer-than-average length make it 2020-appropriate. It adds all the detail and excitement any ensemble needs, so you can dress as simply as you'd like, throw this on over your outfit, and still look ready to go Christmas carolling with Cher (and isn't that we all aspire to? No? Just me?) Style this simply, with some dark grey ripped jeans and snakeskin boots, or with simple black skinny pants and lace-up boots. Add some gold hoops to add to the drama if you'd like!
Snow boots: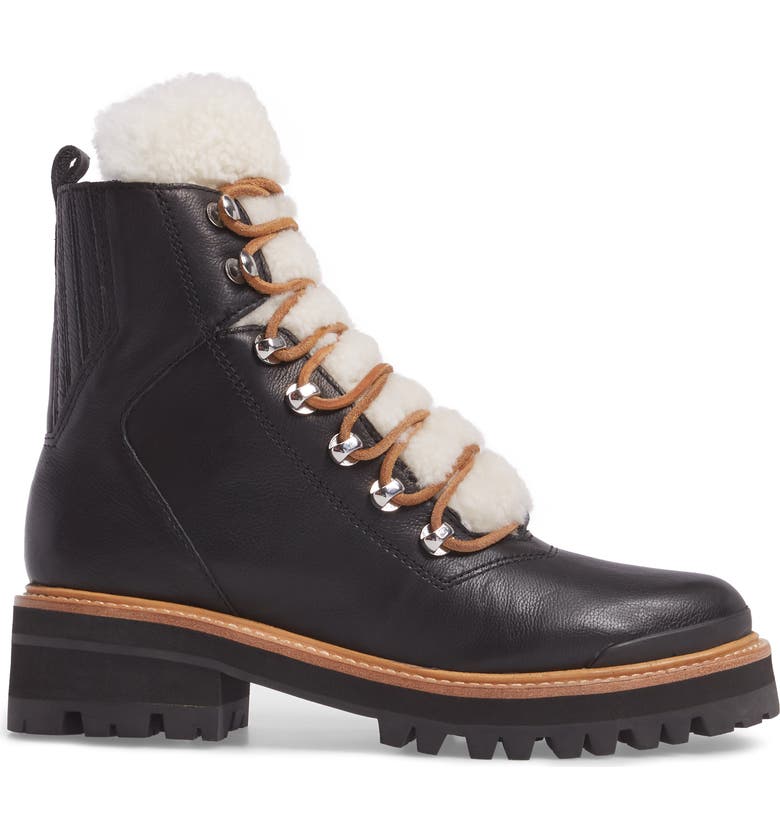 Mentions of "snow boots" often conjure up images of chunky, ugly rubber boots and utilitarian footwear. These sleek leather boots represent the new wave of winter boots, a younger, fresher option for those of us who want to be able to stay stylish in colder climes without ruining an expensive pair of stiletto boots (I've been there a few times myself – it's not fun trying to scrub salt stains out of suede.) These are shearling-lined to keep your toes warm, and the leather is waterproofed, so you can weather the worst without sacrificing taste. Pair these with your favourite pair of skinny jeans and one of the above-listed coats for a fashionable and practical winter look.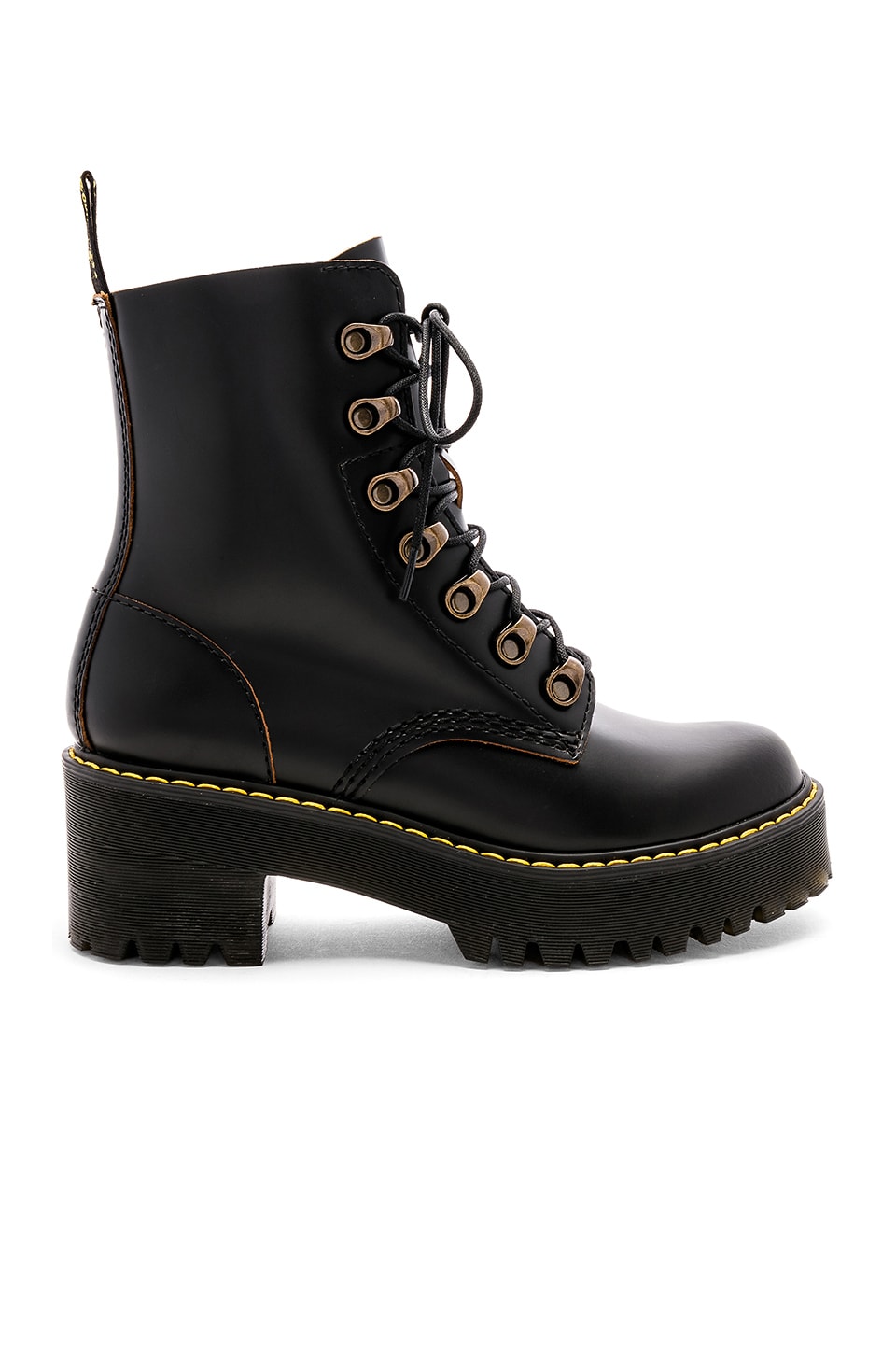 Dr Martens' classic lace-up boots aren't just for moody middle-schoolers who like Panic! At the Disco anymore. They've made a full comeback thanks to the late-90s-, early-aughts-revival that's taken the fashion world by storm. A good pair of Doc Martens are perfect for pairing with all of today's wardrobe staples: mom jeans, cigarette pants, trench coats, and more. They also work perfectly for the colder seasons, as they're durable, long-lasting, and weatherproof. For a well-put-together winter ensemble, wear these with frayed jeans, a printed coat, and a fringed scarf. Or, for something more upscale, these would also look great with a sweater dress and statement earrings.
Knee-high boots are nothing new for winter, I know, but that doesn't make them any less necessary. Stuart Weitzman is the king of boots – his work is favoured by everyone from Kendall Jenner to Anna Wintour. These have a bit more detail than your average pair of black leather boots – they're wider around the calf, the stitching creates an interesting, modern block pattern, and the square heel is both more comfortable than a stiletto and more flattering than a flat. These work best with dresses and oversized coats, but they could also work with flared jeans and pea coats (like the one featured above).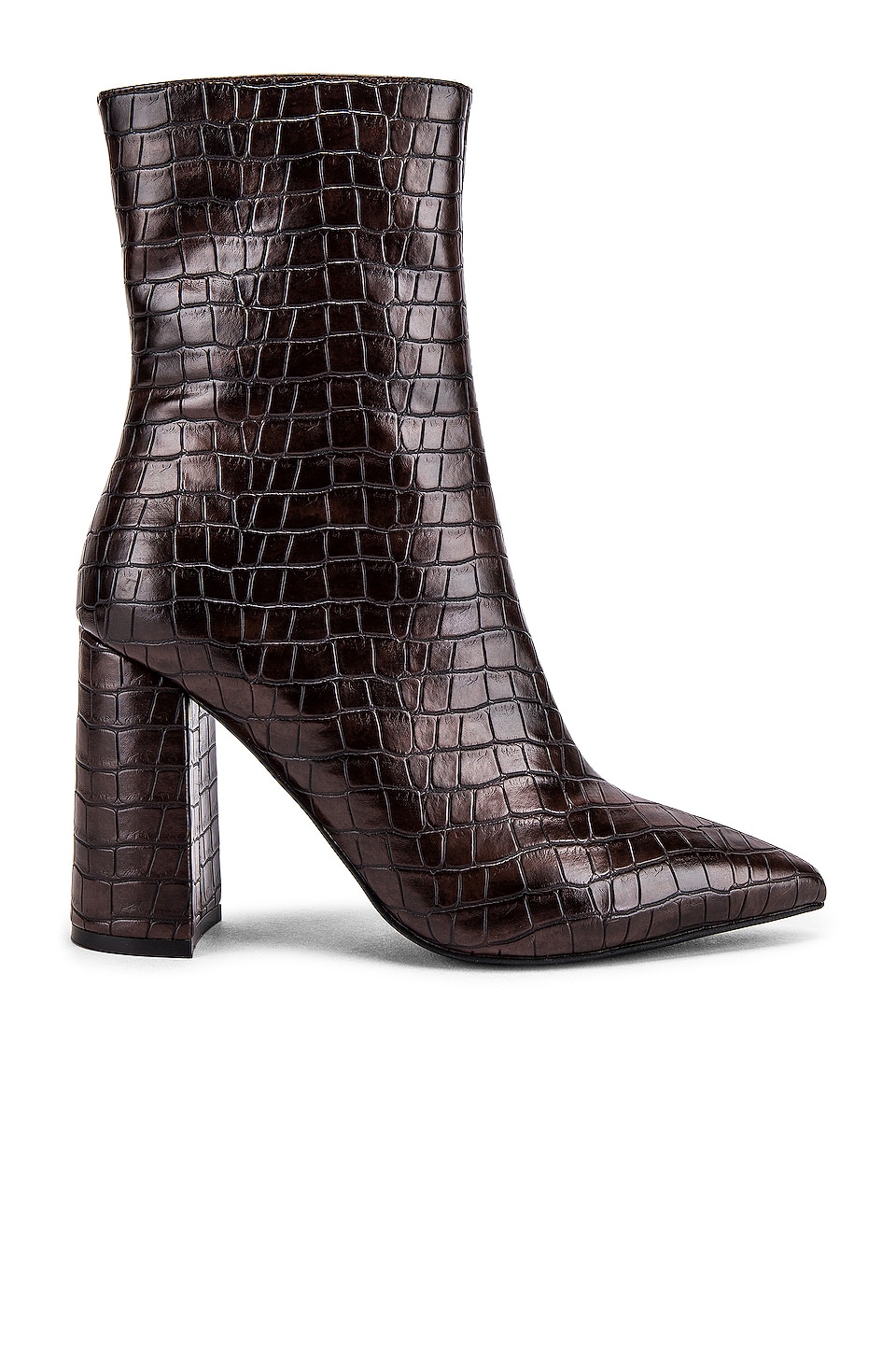 Winter boots don't always have to be chunky and sensible – they can add a touch of whimsy, like metallic alligator skin, and still be practical. These are a great pair for when you'd like to add a little drama to your cold-weather wardrobe. Their chocolate brown hue and bronze-y sheen make them more unique than your run-of-the-mill alligator skin boot (only on this blog will you hear a phrase like that) while still maintaining versatility. Style these with one of the faux-fur coats featured above and a creamy turtleneck for a timeless upscale ensemble. 
Fashionable winter outfits don't have to be glitzy and glamorous to work well – more pared-down, sleeker outfits are often more stylish. These are the perfect pair for those who lean towards more simplistic wardrobe choices. From the famed shoemakers at Frye, these booties are practical with their waterproof black leather, rubber soles, and warm quilted lining, but also add a touch of style with their high-quality stitching and burnished silver hardware. To complete the sophisticated look, wear these with dark grey or black jeans, a fitted sweater, and an oversized coat (heighten the look even further with a statement ring, like this piece from By NYE.)
Scarves:
Cashmere scarves, though often requiring a hefty down payment, are a great investment for both your current wardrobe and those of many winters to come. They are incredibly warm while still being lightweight, they last for years (sometimes decades – many of us have mothers who've handed down their cashmere collections like prized family heirlooms), and they're timelessly stylish. This iteration is surprisingly affordable, and with its subtle striped pattern and soft fringed edges, it adds panache and practicality to any winter outfit. Wear it swathed around the neck with a dark-coloured overcoat, jeans, and your choice of white sneakers.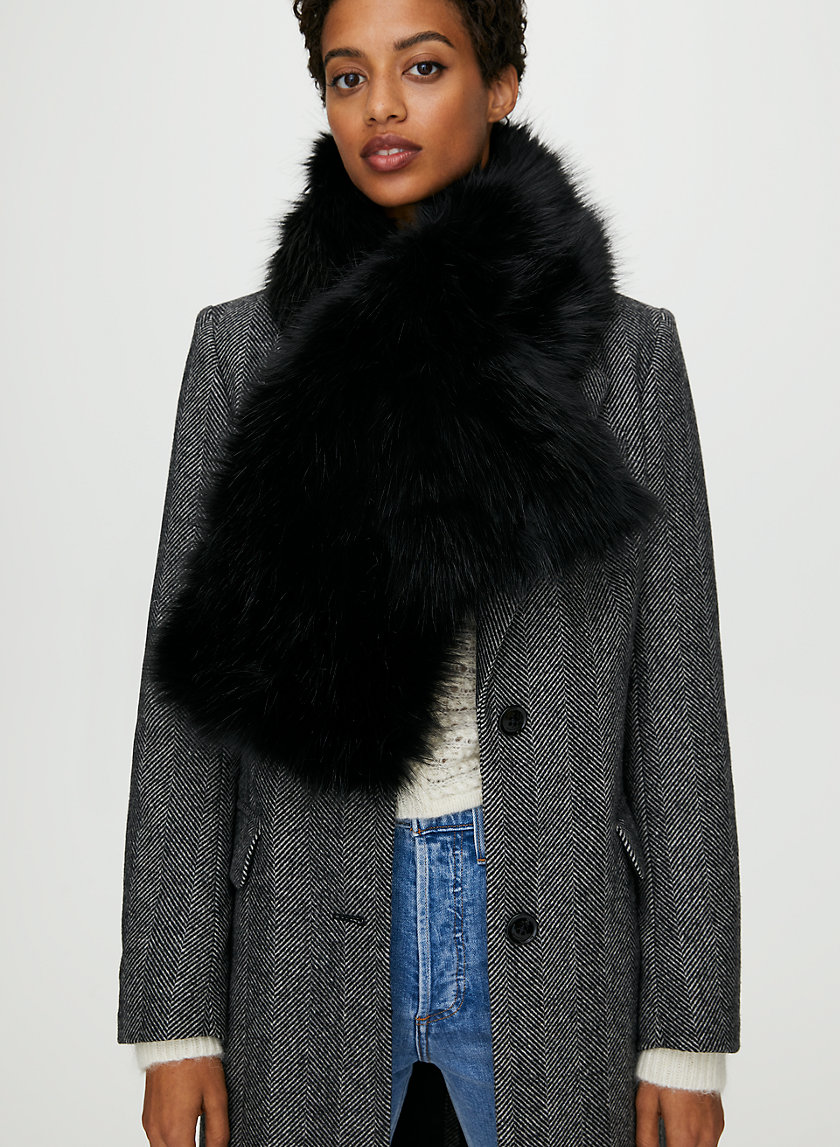 Your grandmother's mink collar this is not. For one, its jet-black hue and large size make for a sense of modern glamour. For another, it's cruelty-free, allowing for you to add this into your cold-weather rotation without guilt. This accessory walks the line between over-the-top maximalism and sophisticated minimalism – a perfect addition to anyone's winter wardrobe. Pair this with a wide-collared, belted coat and high-heeled boots for a more feminine take on this look, or with an oversized pea coat, jeans, and Chelsea boots for something a little more restrained. 
The bohemian look isn't just for the floaty dresses and harem pants of summer – you can add a little of la vie bohème to your wintry wardrobe as well. This scarf has a nice weave, the colour is a perfect neutral (how can one ever go wrong with a creamy white?) and it's even on sale! It's practically begging you to click "add to cart". Style this with the more romantic pieces in your wardrobe – a sweeping coat perhaps, or a sweater with puff sleeves. Or maybe you're going for contrast and you'd like to use it to soften something more severe – a leather jacket, or a well-cut peacoat and combat boots. 
 If you're perusing this list thinking to yourself: it's far too warm where I live to wear any of this — then congratulations! You are living a life I am envious of. While the rest of us face the daily deluge of snow and ice, you can select this piece, made of lighter, airier silk. It's still a great winter statement and will keep your neck slightly warmer than if it were bare, so it's a perfect balance of form and function in my book. Pair this with a long wool coat and a v-neck sweater, or for something a tad jauntier, pair with a holiday sheath dress; that will lend you a bit of Katherine-Hepburn-esque glamour.
Okay, so it might not technically be a scarf, but it was in the scarf section of the store – so by that mark, it counts. I love the idea of a reinvention of the poncho, and doing it in black ribbed cotton is ultra-modern and super chic. It's also far warmer than a scarf, so if you select this item, you could also grab the silk scarf above and pair them together! In addition, this can be styled with boyfriend jeans, a long-sleeve tee, and a large pair of sunglasses for a relaxed getup, or with cigarette pants, loafers, and a white airy blouse for something fit for a New Year's Eve cocktail party.
Sophie Miller